Owl Personal Checks
Have a hoot spending with these cute owl checks! Many owl check styles available. Matching address labels and checkbook covers available for many of the owl check styles. Owl Personal Checks is your online storefront for owl personal checks available at a much lower cost than the bank.
More Checks
Related Products
Owl Checks
Owl Personal Checks
Value Of The Day
$10 Off 2 Boxes, Plus Free Shipping & Handling | Code: CQ9K

Night Owl Personal Checks - $15.95
Night Owl Personal Checks - These personal bank checks are a "hoot!" A vibrant owl in front of a full moon and brilliant lit stars is a statement any nature enthusiast could make on their personal bank checks! Let the big captivating eyes of this night owl hypnotize you into getting these personal bank checks!

Owl Portraits Personal Checks - $15.95
Owl Portraits Personal Checks - These adorable little guys are sure to capture your heart and lift your spirit with their sweet eyes and captivating faces. Share these Owl Portrait Personal Checks with every check you write!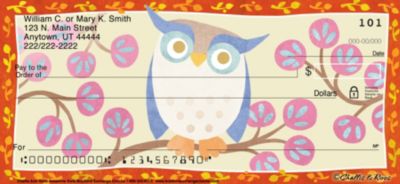 Challis & Roos Awesome Owls Personal Checks - $8.49
Charming Owl Art Personal Checks Showcase Artists Challis & Roos - Who? Who? Why Challis & Roos Awesome Owls art personal checks from Bradford Exchange Checks(R) - of course! You'll fall in love with these delightful woodland art scene checks by acclaimed artists Ian Challis and David Roos. Whimsical owls perch on graceful branches while brightly colored leaves and vividly patterned borders give each Challis & Roos design a distinctively graphic look. Who knew writing checks could be so much fun? But the Challis & Roos Awesome Owls stylized owl bank checks aren't just fun, they're practical too. Available exclusively from Bradford Exchange Checks.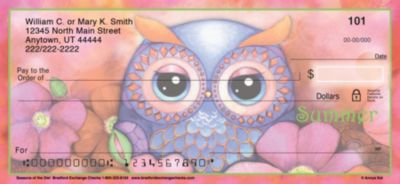 Seasons of the Owl Personal Checks - $8.49

Artistic Owl Checks are a Hoot! - Whether winter, summer, spring or autumn, the cuteness of the owl is never far. Now, enjoy all kinds of weather with the colorful appeal of our cute feathery friends when you use these owl season checks from Bradford Exchange Checks(R). These colorful designs showcase the artistry of Annya Kai and feature fun and whimsical owls in four different seasonal settings. Snuggle up with a buddy to keep warm during a winter snowfall, frolic in the rain with an umbrella during a spring shower, lay back in the blossoming summer flowers, or enjoy the falling leaves of autumn with these absolutely adorable owls!Plus, you'll find these owl seasons personal checks are just as practical as they are vibrant and sweet. Brought to you exclusively by Bradford Exchange Checks.
More Owl Checks - Home | 2 | 3 | 4 | 5 | 6 | 7 | 8 | 9 | 10 | 11 | 12 |